Context 2008
Still under the influence of multiple cold medications [none of which are doing anything for me], I was home yesterday. The fever went down and the shaking subsided so I figured I'd throw a con report at you [because it's wiser than sending submissions out under the influence of Tylenol Cough & Cold—yes, I gave up on NyQuil].  So here you go. Context, in a haze of medication and with a promise to ramble appropriately [with pictures that may or may not match the text around them]…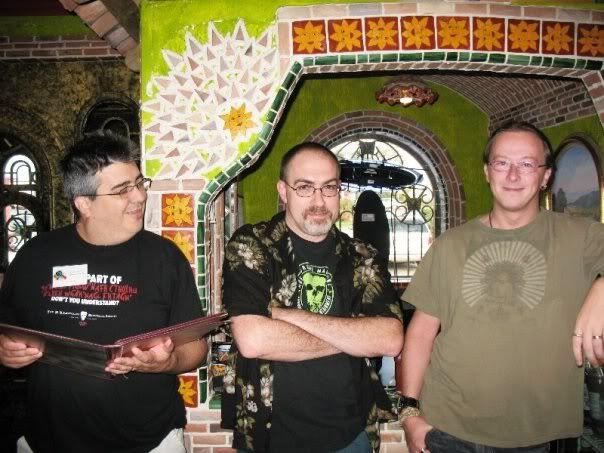 THURS: "We'll wing it." Being the first one to the hotel, I sat and waited for con-mates Brian, Bob and Jesus to show up.
And waited.
For five hours.
You can overhear a lot in five hours [what would you like to know?]. You can also edit a whole novella [edited Jim, out of my hands!]. So I thank the gods of potty breaks and traffic for allowing me time to feel productive before the con even started.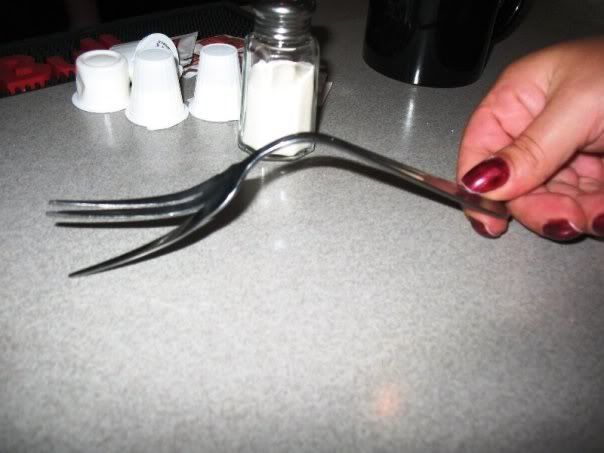 Thursday was a planned down day, the pre-con relax and breathe if you will, but I still learned a few things. The bartender, Tina, was an eclectic soul who knew magic tricks [I still want to know how the hell she did that to that fork!] and she told her replacement to go home so she could stay and hang with us. We liked Tina. Hotel security, Mike [ok, it was really Darren but he didn't look like a Darren and even answered to Mike by the end of the first night] talked guns and ex-cop life and we liked him too. And then we had Russian cuisine for dinner.
In a strip mall.
Next to a Whiskey Dick's [which looked like a good rowdy time].
The restaurant used to be Asian cuisine [ahem, Nick, did you see that? I said Asian] and just opened. They should have stayed closed for a while longer.
Forty of us swooped in on Ivan and Nikolai. The decor and silverware were still Asian in design. They only had seven menus, total, really, which meant that we had to memorize our Russian dish of choice and pass the menus along. There weren't enough glasses. Fruit flies buzzed our eyeballs. The cook was also serving because Ivan couldn't keep the orders straight and carry enough at a time [can you say under staffed?]. And as most of us were done and paying our bills to leave, one of the Guests of Honor hadn't gotten their food yet.
We liked Tina. We liked Mike. We didn't like Russian.
FRI: "Beginnings and endings." Any day that starts with the noob beating the skilled at Magic, repeatedly, and ends with a long overdue first meeting, is a good day.  After years and years and years of emails and IMs and whatnot, Kealan and I finally met [thanks Ma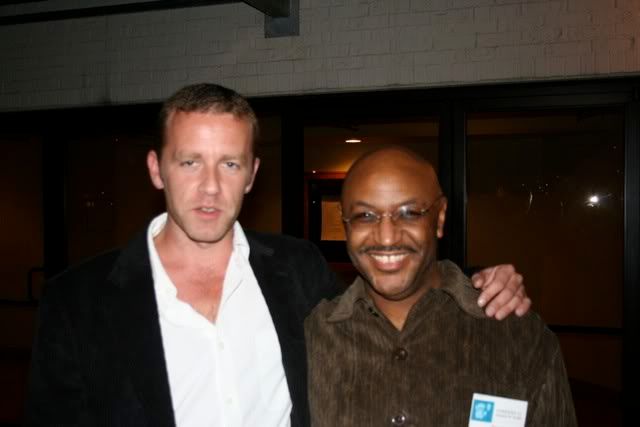 rk]. Definitely one of the highlights of the con, and completely unexpected.
Of course, even good days have middles.
Once upon a time I discussed con behavior, let's consider this vol. 1 issue 2. As briefly covered in the previous Context entry [remember, I turned into a girl, albeit my version]: be yourself. Online, in person, wherever. 24/7. Please. Because if you're a nice person, we'll like you for being a nice person. If you're a wild crazy person, that works too. But don't try to be something you are not. Don't try so hard that it's painfully obvious to everyone around you.  Don't laugh every time someone says something. Don't tell other people's stories if they're standing right there—let them do it. If you're not funny, your jokes come across as anything but, and can hurt feelings or cause drama. And everyone knows that the drama caused at conventions goes down in the journals of history and vast memory banks of this genre for EVER. [/rant]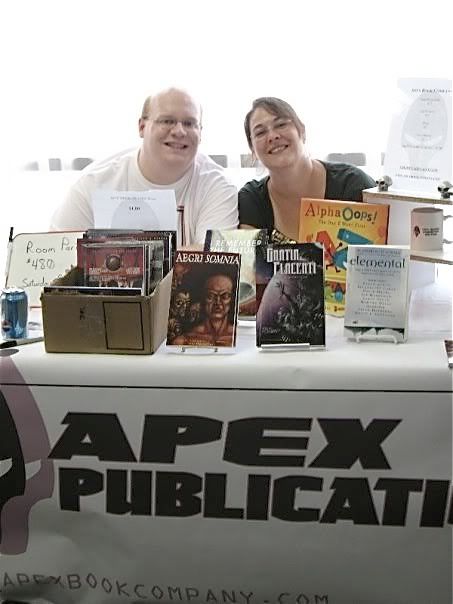 SAT: "The good, the bad and the booth babe." As is tradition, Apex headmaster, Jason Sizemore, tries to keep a girl at his table with him while selling books. Sometimes it's an author from his stable, sometimes it's just a friend, and for several hours this weekend, he got me.  Of course, I was more of a booth bitch than a booth babe, but my hard-sell techniques worked [maybe out of fear, but they worked] and I sold my friends, er… or rather their books. Although telling that rather shy looking boy that for $10 I'd let him talk to Alethea and throw in a free book was "almost" selling her—but he bought it and then never talked to her, so it's all good in the end.
Saturday is also traditionally the night of room parties. Shroud had a party with author signings and free booze—and the promise of money for nothing, but I'll cover that later.  Apex had a great party with deadly punch and a quieter crowd [for those that like to hear what's being screamed in their ear]—and some of the best giggling of the con. And then there was the party I didn't visit. Let me explain my "invite" and then you tell me if you would have gone.
So I'm outside smoking [shocker, I know] with several others when this woman comes out the door with a very angry look on her face. Well, you know me, I'm all about lightening
the mood and tried a pick-me-up off the cuff, "Oooh, she has cookies."  [She did, in a baggie]  Who the HELL knew that was an invitation to get my ass chewed.  She spun around and told me that I could find them in room number XXX and that if I was going to go there would be no smoking, [duh there isn't any inside the hotel] so I had better air out really, really well.  Then she walked away. At forty feet, she spun around and yelled to our group that no alcohol was allowed. No I didn't hold up my water bottle, but I thought about it.  At eighty feet, she spun back around and yelled at all of us for smoking next to the ashtray and that we were to be twenty feet from the building in this state.  I moved away from the door and offered a loud but pleasant "ok" and let it ride. Then I stepped in front of one of the other smokers and stopped him from yelling something else back. We didn't go. I can't imagine why.
SUN: "Raping babies, Captain Tripps and Money for Nothing." One thing I can say about Context is that the panels were different. As Mamatas stated in his blog, they weren't the same old thing for the horror crowd and it was refreshing. Specifically, since I mentioned him, his comments on the "Horror and Real Life" panel, regarding the habit of horror to offer a moral that is nothing more than common sense [such as, "don't rape babies"] were both insightful and funny. The rest of the panelists were also insightful and funny. It was a very good panel. You should have been there.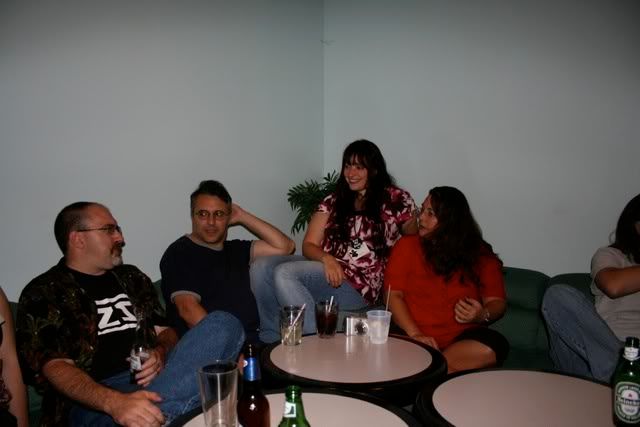 Repeatedly through the weekend, I had to smile and admit that I had nothing with me to sell except my soul. I would then hand over a business card and remind them that my book was coming out next year. Apparently, I had more than my soul—I had my personality. Remember Saturday night? The Shroud party? Well, when I walked in the door I saw Brian Hatcher and did my normal "hey I know you" [read as: I smacked him and yelled at him… I don't even remember what I said].  Michael Knost, standing next to Hatcher, laughed and told me he'd pay me to yell at Hatcher again. Hatcher responded with, "I'll pay you to yell at me."  Well. I'm a starving artist writer. If I can get paid for being for my normal, overly abrasive self, hell yeah I'll do it! I laughed it off at the time, but when I ran into Hatcher later on I yelled at him [again, don't even remember what I said], then held out my hand and declared, "That'll be five bucks." He actually pulled out his wallet! But then made a face, "I only have a twenty."  I responded with, "Ok, I'll do it three more times." And I did. Throughout the evening and the next morning.  When I last saw him, in the parking lot when everyone was starting to leave, I held out my hand as I yelled and he actually gave me the twenty!  I made money for yelling at someone… who knew?! This could be a lucrative side job if the girl clothes don't soften me.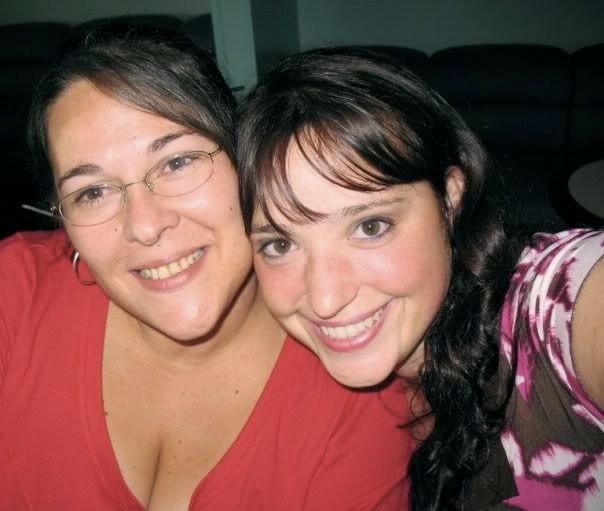 And finally, I went, I saw, I laughed and hugged and talked shop and silliness both. I worked and I played. And in the end I came away with plenty of good vibes, several comments on my appearance and behavior, and some crazy head cold that invaded the hotel, landed in several of us upon departure and has kept us down ever since. Was it worth it to get Captain Tripps? Absolutely.
Am I going to do a shout out to everyone there? No way. Between the cold meds and amount of people, I'll miss someone and I'd hate that. It was great to see everyone and I hope you all have a wonderful winter… I'm done for the year, see you all during con season 2009!
0 Responses to Context 2008